Welcome to Prideful Joy - The Official Blog of HBCU Pride & Joy
Summer 2020 Must Haves for Kids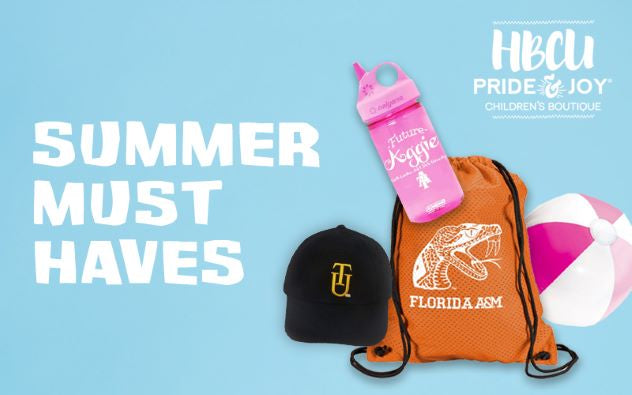 1. The all purpose drawstring bag
Kids of all ages (and even mom and dad) can make use of our new drawstring totes! They are perfect for summer camp, a day at the pool, or trips to the beach.
2.  Outfit saving bibs
Ice cream cones, popsicles, and family bbqs could mean a ruined summer outfit. Don't spend your morning picking out the cutest family ensembles...just to be stuck in a bathroom an hour later, scrubbing out a ketchup stain. Your little ones will stay stylish and their outfits will stay clean by putting on our HBCU themed bibs! Plus you'll be repping your school which is always a good conversation starter.
3.  Toddler sized baseball cap

Protect their little eyes from the sun and the elements...on all of your summer adventures. These adorable caps are both functional and fashionable. 
4.  Black Pride T-shirt

Part of passing down our legacy to our youth includes instilling in them a sense of pride in their heritage. With recent conversations worldwide, now more than ever let's make our voices heard...even the little ones. 

5.  On-the-go Sippy Cups

Our sippy cups come in a variety of schools and fun colors! Pool floaty with a drink holder...yes please!