Welcome to Prideful Joy - The Official Blog of HBCU Pride & Joy
HBCU Made: Dr. T. Nichole Phillips, Founder and Owner of HBCU Pride & Joy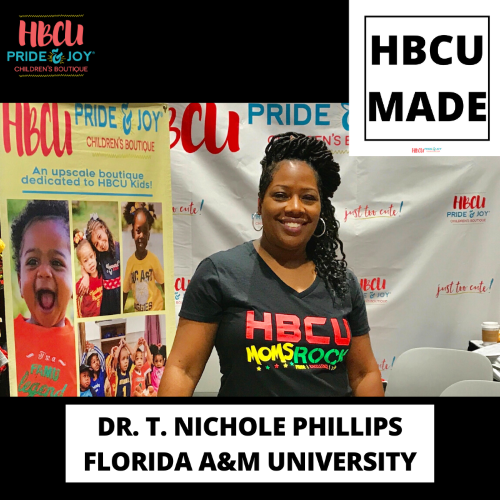 Dr. T. Nichole Phillips is a business school professor and founder of HBCU Pride & Joy Children's Boutique. She was born and raised in West Palm Beach, FL and graduated from Florida A&M University's esteemed School of Business and Industry. HBCU Pride runs in the family as her great aunt, father, uncles, and sister are all HBCU graduates.  
Nichole founded HBCU Pride & Joy in 2012 after a conversation with her sister, a fellow FAMU graduate, about the lack of cute FAMU apparel for her kids. They recognized a need, developed a plan, and HBCU Pride & Joy was born. 
An avid researcher and proponent of education, Nichole was the first African American to graduate from the University of Central Florida with a PhD in Business Administration, and has served as a professor at several universities for over 10 years. She is also the Founder and Principal at Jonlee Management Solutions, a consulting organization focused on enhancing the success of small businesses and HBCUs. 
Nichole loves all things HBCU, and is a proud life member of Delta Sigma Theta Sorority, Inc. and the Florida A&M University National Alumni Association. 
Thank you, Dr. T. Nichole Phillips, for being an amazing HBCU advocate and serving your community! We salute you for being HBCU Made!