Welcome to Prideful Joy - The Official Blog of HBCU Pride & Joy
HBCU Made: Jacque Reid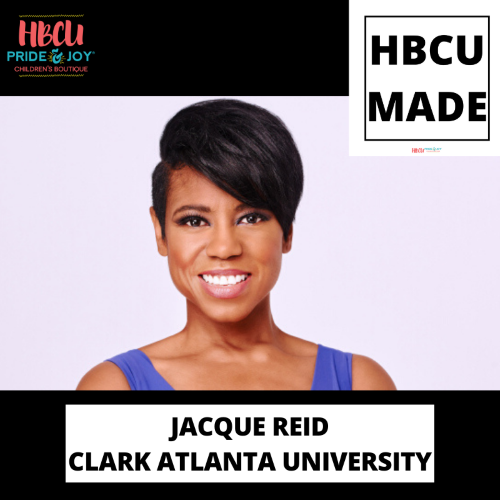 Jacque Reid is a leading radio and television journalist, born and raised in Atlanta, Georgia. She received her Bachelor's degree in print journalism from Clark Atlanta University, and a Master's degree in broadcast journalism from Northwestern University. In 1999 she became an anchor for CNN Headline News, then in 2001 moved on to be the sole news anchor for BET Nightly News, solidifying her as a reliable face for news of specific interest for Black people. She has interviewed celebrities such as Barack Obama, Beyonce, Will Smith, Jamie Foxx, and many more. 
Jacque Reid's poise and infectious personality took her talents to numerous shows including Larry King Live and ABC's The View, and as host of the BET Red Carpet Special, TV One's Presidential Election, and the memorial service of Micheal Jackson. She educated and empowered Black women every Tuesday and Friday in her segment on The Tom Joyner Morning Show called "Inside Her Story." Jacque gives back to her community by being involved with programs like Jalbot's Scholarship Board, which provides funding to young women attending college. She is a member of the National Association of Black Journalists. Jacque currently hosts a podcast with Joy-Ann Reid titled "Reid This Reid That," which covers topics like politics, pop culture, and Black Girl Magic. 
Thank you, Jacque Reid for being an outstanding example of an HBCU woman, and for being HBCU Made!